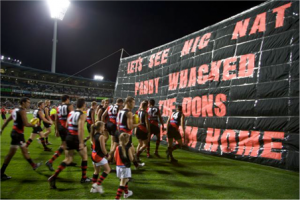 WA Bombers are the official supporter group of the Essendon Football Club in Western Australia.
Our home is The Game Sports Bar in Northbridge where we gather in numbers to watch live telecasts, socialise and enjoy discount meals.
WA Bombers were formed in 1993 with EFC life member and former player, Colin Hebbard, the group's inaugural President. The group incorporated in 1999 and now boasts over 2200 "Interstate" members of EFC.
We work closely with EFC to organise functions for WA members and supporters and to support the team when they come to Perth.  Stay tuned here for details during the footy season.
We are run by a committee of volunteers  and the current 'gang of seven' comprise:
Trevor Tann (President)
Martin Hasselbacher (Vice President)
Stuart Helleren (Treasurer and Sponsorships)
Stephenie Gadenne (Memberships)
Deanne Tann (Functions)
Fabiola Meunier (Licence Plates)
Russell Ellen (Member)
Christina Dui (Member)
We will be refreshing our site over the coming months and look forward to input from members and prospective members.
If you would like to comment or suggest anything for our site – please email Webmaster
Regards
Trevor Tann – President
Phone: 0411 533 210
Email Us